BENEFITS OF SMS TEXT MESSAGING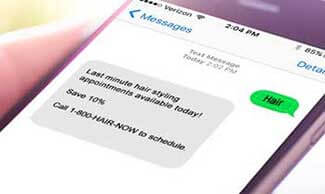 There are numerous benefits to supplementing your loyalty program with SMS Text Messaging. Many businesses overlook the power that SMS text messaging can bring to their loyalty program, when it comes to engaging and creating loyal customers. With over a 95% open rate, text messaging is the single most effective communication channel available to businesses. With instant communication, you can drive customer traffic at desired times and influencing shopping behaviors to your advantage. Typical uses are to operate member-only secret sales, to promote flash sales on slow days or drive extra traffic on holidays, to encourage feedback, collect data or drive customers to desired web pages and advertisements.
48% of consumers cite SMS as their preferred means of receiving loyalty messages, followed by email at 22%
See study
UNIQUE ADVANTAGE OF SMS TEXTING
The unique advantage of SMS Text Marketing is it's ability to reach a large number of customers near instantly, delivering your message to the right customers at the right time! Unlike other channels, including email, direct mail and even phone calls to voicemail, text messages passively deliver to your customers' mobile phones, with a subtle vibration, making it easy, effective and economical to communicate your message.
WE OFFER LOW SMS PRICES
We recognize the important of SMS text messaging to your marketing ability, so we strive to deliver rock bottom credit prices for SMS messages.