Cross-Channel marketing refers to integrated marketing channels and customer data working together, leveraging one, centralized customer database.

Multi-Channel marketing refers to individual marketing channels and possibly seperate customer databases working in tandem. At the core, multi-channel marketing equates to simply recycling identical content across multiple channels.
What's the difference?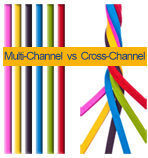 The obvious advantage of cross-channel is that a single customer knowledge base is exploited over several channels of communication, providing an opportunity for a more holistic customer view. Hence, some pitfals inherent in multi-channel marketing, such as double contact by the same brand with the same message, can be avoided. For instance, when a customer receives a text message and an email with the exact same message and offer, they may not be overly thrilled by this redundant approach, typical of multi-channel marketers. You're basically telling your customer you don't know them in the least (you don't know what method of engagement they prefer). With cross-channel, customers can get an text message that's a continuation rather than a re-iteration of the information they received in an email. Some key distinquishing factors are:
Improved Customer engagement - multi-channel optimizes a channel's features to improve engagement, cross-channel optimizes a database to improve targeting.
ROI Measurement - Multi-channel focuses on channel metrics, such as click-through rates. Cross-channel additionally leverages customer-centric metrics such as RFM ranking and lifetime value.
In summary, a Loyalty based marketing system allows you to determine the right channel philosphy for your messages without always relying on every channel to have the same impact on everyone.
What should you do?



Choose multi-channel, cross-channel or both. Whatever your preference, the Preferred Patron™ marketing software suite has your needs covered. Our rules based loyalty system with all-in-one integration of email, sms messages, social media and direct mail makes this the perfect vehicle to exploit multi-channel marketing as well as tap into the next level of cross-channel marketing.
"If simply multi-channel marketing was your requirement, all the capabilities you would have to look for in a marketing platform would be the ability to execute messages in different channels. But if cross-channel marketing is your end objective, the capabilities that you will need are far more complex and nuanced. You'd want, for instance, the marketing platform to be able to retain promotion and response history, or what I would call the institutional memory of the relationship you have with your customer across all channels.
This [a cross-channel platform] will require the marketing platform to be able to process a whole host of complex business rules to be able to decide which direction to take the conversation and how to process the responses so they're relevant to the customer at any given time. The marketing platform must also be equipped to design and identify events and trigger communications based on those events. It also needs to be able to analyze information in real time, or in the batch mode, and make decisions based on that information."
-Suresh Vittal, Vice President, Forrester Research
Preferred Patron™ is the only Loyalty Marketing system positioned to help you to succeed with these strategies!